Skip to Content
PR & Marketing Strategies for 2020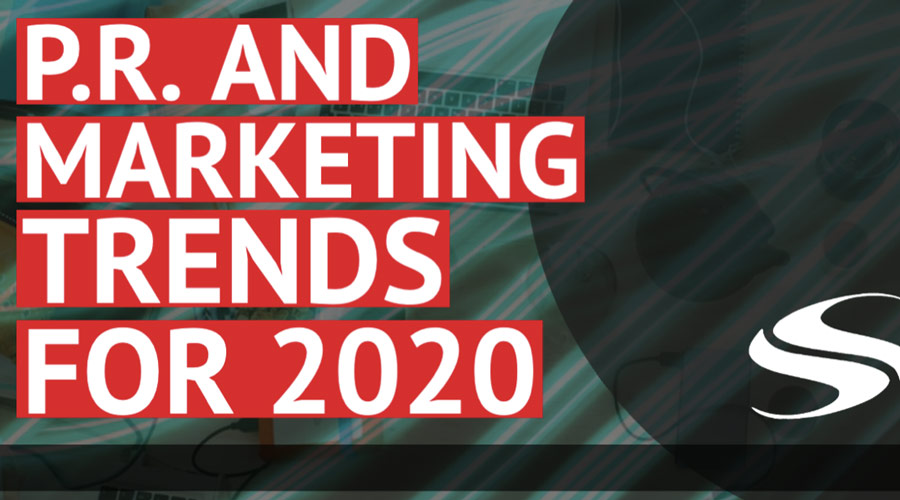 If you wanted, say a new look, a new hairstyle how would you go about finding the right person for what you need? My guess is you'd probably start out by doing a quick search on your phone for 'great stylists near me' or something close to that. You'd quickly be taken to Google's page with the top 5 salons who have the best reviews. I'm willing to bet before you commit to setting an appointment for something as life-altering as a new hairstyle, you probably do a bit more research. You look for a website. You may look on Social Media.
But, What Is It That You're Looking For?
You're looking for proof that the stylist is right for what you're wanting or needing. You're looking to see how many other people would agree that this person is the right choice for your new look. You're looking for the brand, what others say about this brand, and if what you see, and how you feel after your research confirms it's the right choice for you.
"There Is Only One Thing Worse in the World Than Being Talked About and That Is NOT Being Talked About."- Oscar Wilde "
In a simplified definition, what you're looking for is the p.r. and marketing employed by that particular brand. Thus why YOUR P.R. and Marketing Strategy is of the utmost importance if you want to stay relevant and at the forefront of your audience's mind when they go looking for the services you offer.
What are the trending strategies and how can you implement them into your own? We're glad you've asked!
Here Are Our Recommendations on 8 of the Top P.R. and Marketing Trends for 2020:
1. Storytelling
Who doesn't love a good story? Storytelling will engage your audience on an emotional level and it will allow you to humanize your brand. There are many ways you could go about telling a story and using that technique to bring others into an experience with you. One idea is to post a client testimony or post a picture during the middle of a training or a special project you're working on and share moments. You can also share your own personal story as a business owner or about your business and what's next, what obstacles you've overcome, projects you're excited about.
In an article for Forbes on Richard Branson, The Virgin Group, and his views on the power of storytelling, Carmine Gallo writes, "Branson says the Virgin story—its ups, downs, opportunities, and challenges—is what attracts people to its products and services, as well as attracting employees to join the Virgin family. 'We would be nothing without our story.'"
(Read the full article here. )
Good storytelling is a top trend for public relations and marketing and your story needs to be heard!
2. Analyze Your Data
We've worked with so many clients that either don't realize the value of their data or just aren't aware of how much of a priority it should be when planning content and strategy. Your analytics can provide so much information on things like your audience, the content that resonates the most with them, the content that turns leads into clients, and a whole host of other markers that will help align your strategy with your business goals and objectives.
According to Adobe and some statistics cited in a blog by Giselle Abramovich, "15 Mind-Blowing Stats About Data-Driven Marketing," (Read the full blog on these Data-driven Stats). "Marketing data and analytic users are 57% more effective at increasing their productivity with integrated marketing technologies."
Analyzing your data has never been easier since most social media platforms offer data and analytics for free. There's also Google Analytics, among a few others like Hubspot or Sprout Social that can be really helpful, especially if you want a more detailed look at not only social media but your website traffic as well.
Here's a blog by Sprout Social that lists 10 analytics tools and some details about their features for some more good reading!
3. Create Better Content
One major objective in a P.R. strategy is to positively affect a brand's reputation. Content marketing and actively creating better content for your audience can do just that. When people find the content they like or feel is useful to them they share it. Creating content that shows your expertise in certain areas also affects the way your audience views your brand. When you are seen as an expert in your industry, you will build a trusted reputation and are likely to broaden your reach as your audience shares your content.
4. Incorporate AI Into Your Strategy
Artificial Intelligence is growing among marketers and P.R. professionals as a legitimate strategy to be used in combination with your marketing plan. While many people are beginning to be familiar with chatbots as AI, there are other ways to utilize artificial intelligence. Email marketing automation and setting up automated responses within your email campaigns can not only help personalize the experience for the user but also help you to not miss out on a potential lead. And what good is your marketing strategy if leads don't convert!
5. Personalized User Experience
We just mentioned above that automated responses in email marketing campaigns can help in personalizing your user's experience. There are so many ways to personalize your customer's experience. Sending personal emails where the content is targeted to that buyer's interest can be effective and can easily be done through email segmentation. Using other strategies like Surveys or Polls, Q&A sessions, and even interacting and commenting with your audience through your social media channels are all ways to personalize your marketing efforts.
Did you know that according to some studies, brands experience a 19% lift in sales when brands personalized their web experiences? Personalizing your user's experience is P.R. and a marketing strategy you don't want to overlook.
6. Thought Leadership
We're hearing more and more about this as marketers and brands begin talking about the importance of being looked at as a "thought leader" or expert in your industry. Building your brand's authority and reputation takes a strategic approach. Creating and sharing content that will drive traffic to your site is an important step in establishing your brand as an industry leader. You want to create content that others will look to for resources, information, and inspiration.
In a blog post seen on Hubspot, Rebecca Riserbato writes, "60% of decision-makers said thought-leadership convinced them to buy a product or service they weren't previously considering."
7. Simplify Your Buying Process
Let me give you a real-time example in a quick story…
I went to a well-known marketing agency's website the other day looking at some of their services as I was considering outsourcing some things I needed for my business. Every package or service I clicked into for pricing said 'contact for a quote. Needless to say, I was not a converted lead.
Potential customers want to see your pricing and they want a simplified process for buying what you have to offer. Think of it as self-service. Consider simplifying your packages, updating your website, and creating an "a la carte" buying experience. The easier it is for a customer or client to get what they need with ease, the more likely they are to continue with you.
8. Utilize A 3rd Party Voice to Promote Your Message
Who would be considered a "3rd Party Voice"? We'd suggest a micro-influencer in your specific industry with a following of 10-15,000. This trend is also being referred to as "Influencer Marketing". A micro-influencer will have built authority with their audience and that will produce trust and a willingness to follow their lead. Having their voice promote your message will expand your reach into new audiences and establish your authority within the same expertise.
When you're choosing an influencer to align yourself with remember that it's not just about the size of their audience. Consider the content they create, the brand, and the audience. Make sure whoever it is you're aligning yourself with is a good fit for your brand as well as your values personally and professionally.
TO RECAP
P.R. and Marketing trends rapidly change and it can be overwhelming at times especially for our clients to know what strategies to deploy and when. We've listed 8 that are trending for 2020 and who knows what 2021 will hold. However, you can be sure that integrating 1 or a combination of a few of these 8 will help your client and their brand position themselves in the market for growth and success.